Thunder celebrates its 4th birthday
Fri, 02/28/2020 - 09:32
This year we can really celebrate Thunder's birthday for the first time: Beta 1 was released on 29th February 2016, Thunder's hour of birth. We are using this opportunity to reminisce about our beginnings, celebrate how far we have come and look to the future.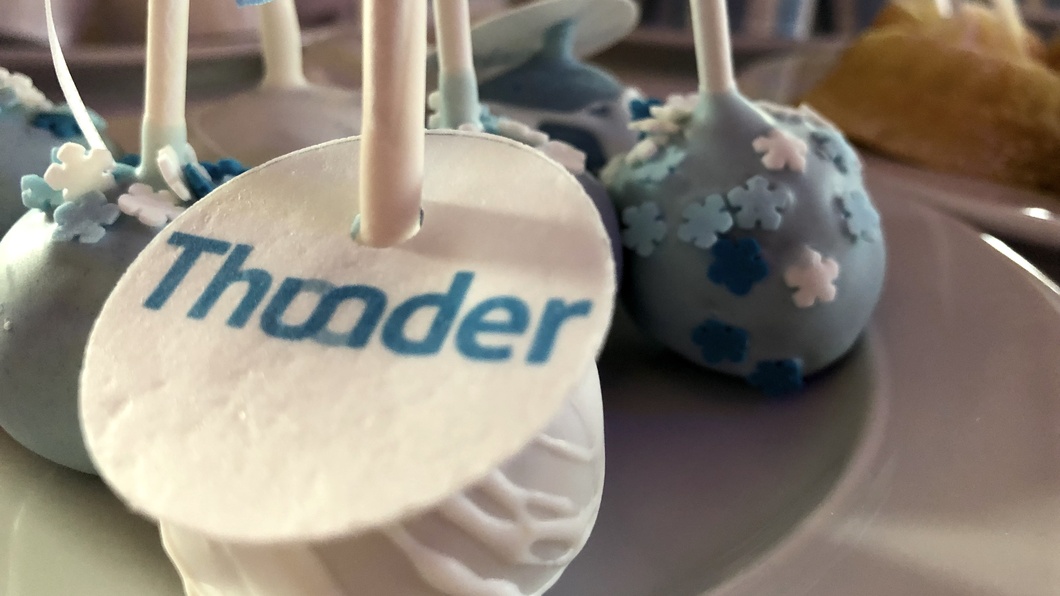 Thunder's beginnings at Burda
The story of Thunder begins back in 2015 at Hubert Burda Media: "We had lots of different content management systems running at Burda" remembers Thunder's initiator, Ingo Rübe. "That was a problem because we had to react increasingly rapidly to external influences and adapt the websites accordingly."
Burda's response to this challenge was the editing system Thunder, one of the first Drupal 8 distributions. With the open-source solution one was able to react to new technical demands more often and, first and foremost, more rapidly – and in working together across brands, bundling all the publisher's strengths together.
At first, the open-source technology was an important instrument enabling Burda to save money: "In this way, we were able to significantly reduce the costs for relaunches, operation and further development of the websites", explains Kai Riecke, CTO of Burda Magazine Holding. "Synergy effects were created by swapping ideas regarding modules and experiences which promoted cooperation."
Thunder becomes Open Source
But it did not stop there. In a unique step in the publishing world up to that point, Burda decided to roll out Thunder as an open-source technology – i.e. to share it with other publishers. "This strengthens the synergy effects", explains Kai Riecke about the decision. "In addition to ourselves, other publishers develop new modules, correct bugs and in doing so improve the existing system. And we benefit from this in return."
Philipp Welte, chairman of Hubert Burda Media, called Thunder a symbol for a "new era of collaboration": No publisher in the world would be able to manage keeping up with the lightning speed of technological progress by itself. "So we have to leave our historical silos behind, share our knowledge, cross traditional boundaries and learn how to work in a much more connected way", he emphasised regarding the launch.
Thunder today
In the meantime, it is not just almost 30 Burda sites such as Bunte, Mein Schöner Garten, MyLife, InStyle and Elle running on Thunder – the system is in use across the world for more than 700 pages. It is no longer the preserve of classic publishers but also companies using digital storytelling such as e-learning platforms (smartpurse.me), real estate consultancies (realestate.bnpparibas.de), department stores (kaufhaus.ludwigbeck.de) and tradeshow organisers (ispo.com).
Kai Riecke strikes a positive balance for Burda: "The brands are more successful in the digital space because they can implement their requirements rapidly and in a targeted manner, and central maintenance conducted by the Thunder team provides resources for development and editing." A lively exchange of knowledge and experience comprising more than 50 experts has now established itself within the company.
The Thunder team now belongs to the top contributors of the Drupal community – it is second place globally and first place among German organisations contributing to Drupal's further development. Hubert Burda Media is therefore shaping the future Drupal strategy together with other publishers.
Thunder Community
Similar effects can also be observed in the global Thunder community. More than 20 agencies are now implementing websites for customers as Certified Thunder Integrators and continuously improving the system in the process. Users such as the Hamburg publisher Klambt and the Austrian daily newspaper Kurier are developing new modules themselves and giving them back to the Thunder community as open-source software.
An important component since 2017 in Burda's strategy of bringing together other companies and developing solutions for tomorrow's publishing industry has been the Thunder Day. More than 100 experts from the industry attended the first two events and exchanged experience and ideas. The third edition of the success format is taking place in Munich on 8th and 9th October.
The future of Thunder
Thunder hasn't become at all rusty in the four years since its launch. Thunder developers are currently busy with improving performance in the backend, a design update and additional features which will make working with the system even more efficient. And as before they are working closely together with the Drupal community and giving all innovations back to the open-source world. Kai Riecke stresses: "Our goal is to work together to make Thunder the standard CMS for professional publishing."