The new editorial backend
Thu, 07/20/2017 - 14:15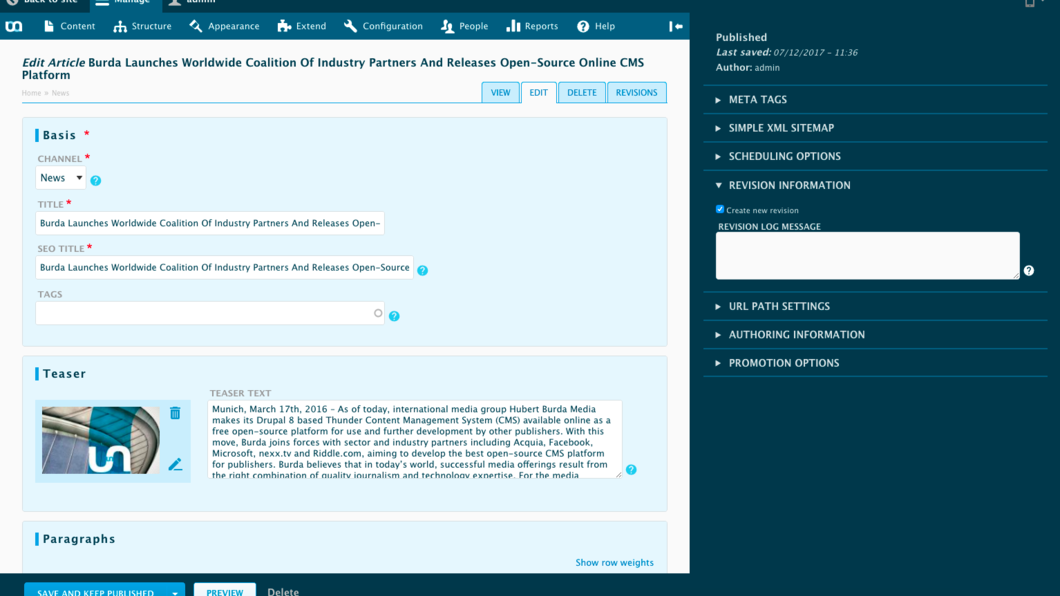 For the past months, we have been working to enhance the authoring UX for Thunder. We talked to editors, SEO people, product managers, and technicians inside Burda to learn about their problems. Using this knowledge we discovered a lot of smaller and bigger ways to make their lives easier – and therefore the lives of everyone using Thunder.
With the latest release of Thunder 2.4, you can see the first results of our work. We are introducing the Thunder Admin Theme with lots of UX improvements:
Nice looks: You will find the new design to be neat and more compact: We replaced the grey colour of the Seven theme by different shades of blue and grey so the backend appears friendlier. The paragraphs have the same size now and the areas for basis information, teaser, and main content are separated visually.
Less scrolling: The buttons for saving an article and getting a preview are now fixed at the bottom of the site, so you don't have to scroll down to the end of your article to save some changes in the title.
Less distraction: The help texts are now hidden behind small buttons with question marks – this ensures they won't disturb the nice view but they are there if you need them.
Fewer clicks: You can edit an image inside the image paragraph by clicking on the edit symbol. The edit form will immediately open and you can change the media name, the focal point, and anything else without an additional click.
Optimised for tablets: When the screen you are working gets smaller, the block with the meta information will disappear into a sidebar. You can always get to this information by clicking on the gearwheel symbol at the right side.
We keep on working at the Thunder Admin Theme. So if you have any ideas or suggestions on the matter, please let us know: Just write us at [email protected] or join our Slack team.