First Thunder Day on 20th November 2017 in Hamburg!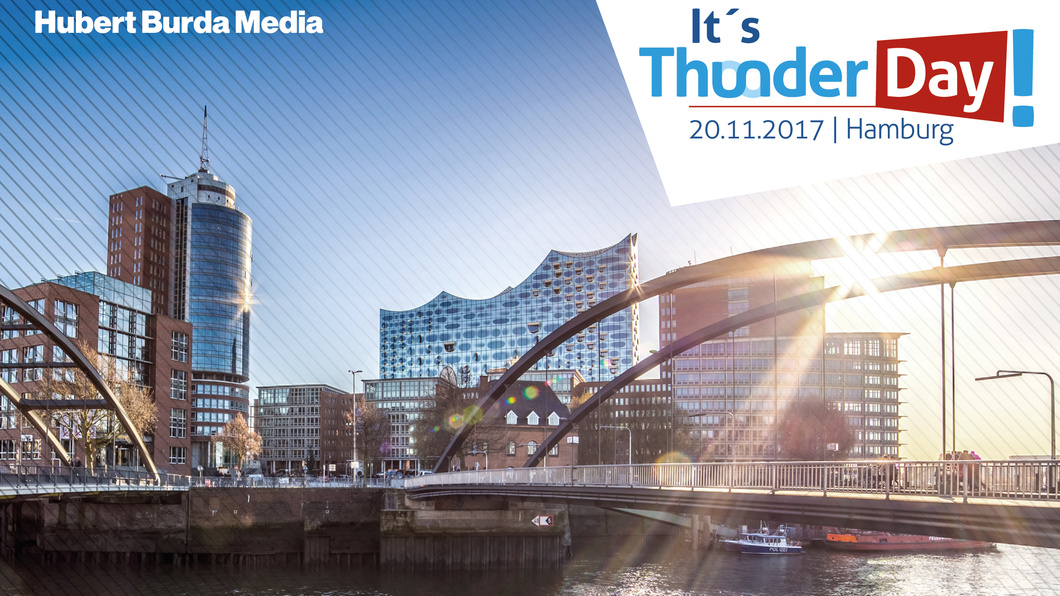 Speaker
Collin Müller, Hubert Burda Media: Welcome
Ingo Rübe, Hubert Burda Media: Keynote – State of the Union
Stratos Filalithis and Tim Gray, University of Edinburgh: Innovation via collaboration in the development of the University of Edinburgh CMS
Nathan Maehren, YMCA of the Greater Twin Cities: Open Y – Bringing Digital Transformation to a 170-year-old global YMCA Brand
Andreas Ländle, Droemer Knaur: Thunderstruck – Agile Values, Design Thinking and MVPs in Book Publishing
Richard Jones, Inviqa: Personalisation in 7 Dimensions
Oliver Berndt, Österreichischer Wirtschaftsverlag: Contentpool for Publishers. Our way from Drupal 6 to Thunder.
Mladen Todorovic, Thunder Core Team: IPFS – The Distributed Web
Adam Zielinski and Martin Gaiger, Telekurier Online Medien: Digital Transformation of a Daily News Publisher
Sebastian Siemssen, Amazee Labs: Decoupled Drupal in the age of GraphQL
Johannes Haseitl, undpaul, Peter Bilz-Wohlgemuth, THE DIGITALE, and Saskia Rettenbacher, Messe München: Case Study ISPO.COM - How Thunder drives Content Marketing
Christian Sattel, Hubert Burda Media: Alexa, Siri & Co.
Stephan Heck, sprylab technologies: Thunder and Purple DS to serve all digital channels
Daniel Bosen, Thunder Core Team: Thunder – What's coming
Patrick Lithander, fischerAppelt, and Alexander Dobbert, Fork Unstable Media: CMS requirements for the content marketing industry
Christian Glanzmann, A&F Computersysteme: Thunder as a Content Hub
Thor Andre Gretland and Roberto Ornelas, frontkom: University – a Drupal 8 distribution for universities and colleges
Designed to meet the needs and expectations of professional publishing.
Thunder is a web-based open-source Content Management System setting new standards for publishers' CMS. It is based on Drupal 8, enabling its users to benefit from the Drupal community's continuous development efforts, as well as specific modules contributed by Hubert Burda Media, other publishers and industry partners – the Thunder Coalition.
With the Thunder Coalition, Burda is establishing a culture of collaboration and sharing within the publishing industry. Thunder is 100% non-profit – it was released as open source software under the GNU General Public License. All publishers can use and enhance the system with no licensing cost.
How does it work?
It's open source!
This means Thunder's feature set is growing constantly and evolving with the help of a united community – the Drupal community and the Thunder Coalition. Everyone can use Thunder's existing modules as well as develop and share new ones. Each partner will benefit from the contributions of the other. 
Join the Thunder Coalition!
We believe that publishers do not compete through technology, but through content and brands. That's why we decided to release Thunder as open-source software and started the Thunder Coalition to join forces by sharing code and innovation power.
Coalition Members develop valuable modules, using them for their own purpose and sharing them with the community under the GNU General Public License. The Coalition discusses feature requests and offers, celebrates new launches, and is a platform for programmers and executives in the publishing industry.
The Community is growing
Downloads from drupal.org
Certified Thunder Integrators
Monthly visits on Thunder websites
Sites report using Thunder
Active users in the Drupal community
Stay tuned to learn about news from the Thunder world and receive invitations to coalition meetings.
Big players rely on Drupal
I want Thunder!
How to proceed
Stay informed
Subscribe to our newsletter!